Good To Know
Located in Quang Nam Province, Central Vietnam, Hoi An town with its peace and ancient has become one of the most popular tourist attractions that appeal to the travelers of all tastes and cross over the continents. In 1999, Hoi An was recognized by UNESCO as a World Heritage Site.
This town used to be an essential trading port in Southeast Asia. Many foreign traders, mostly Chinese, Japanese, and the West, bought and sold goods and merchandise during the 17th - 18th centuries. Therefore, Hoi An's architecture is harmoniously mixed with Vietnamese, Chinese, and Japanese designs. It is a mass of many pagodas, temples, and ancient houses that carries its unique mark, making it distinctive and unlike any other sites throughout Vietnam. Besides its architecture, Hoi An is also famous for street food such as cao lau, banh xeo, my quang, etc. that are sold on the street or in small corners around the beautiful town. With its diverse gastronomy, Hoi An is one of the 25 most appealing destinations for tourists in the world. As being the main port of the silk route, the ancient town is renowned silk and tailor. When traveling to Hoi An, you will have a chance to see more than 400 cloth and tailor shops. With many unique things, Hoi An will be an ideal destination for tourists to discover in the central part of an S-shaped country.
How to get to Hoi An (by airplane, by road, by train)
There are lots of ways to go to Hoi An including by airplane, by road and by train.
By airplane
The easiest way to reach Hoi An is by taking a flight to the international airport in Danang City, a 30-minute drive from the ancient town. There are domestic flights from Vietnam's major cities to Danang City and direct flights from Bangkok, Hong Kong, Kuala Lumpur, and Siem Reap.
By road
If you start from Hanoi, Saigon, or other main cities along with Vietnam, you can go to Hoi An by road, taking a bus or coach from North to South.
By train
If you go to Hoi An by train, there are two options for tourists, including Danang Station (30 km from Hoi An) and Tam Ky Station (50 km from Hoi An). Danang Station is suitable for those who are from Hanoi or other provinces from the North. In contrast, Tam Ky Station is a good option for those who come from Saigon or Southern regions.
How to get around Hoi An
The central part of Hoi An ancient town is pretty small. The authority bans on using motor vehicles on the street, so tourists can only walk or use a bicycle, cyclo, or electric car for hanging out. Most homestays, hotels, and resorts in Hoi An have prepared the bikes for free-use and motorcycle for rent. If you want to go further, far from the center of the ancient town, you can hire a motorbike or take a taxi.
Best things to do in Hoi An
Hoi An ancient town
Exploring the old town with a harmonious blend of opulent Chinese temples, a Japanese-designed bridge, ancient houses, and French-colonial houses will fulfill your trip. It's time for you to discover a unique architecture and enjoy the hustle and bustle daily life of local people in Hoi An. Declared as a UNESCO World Heritage Site in 1999, Hoi An is famous for plenty of shops, namely countless tailors, souvenir stores, art galleries, restaurants, and coffee shops.
Do not forget to walk around the riverside area near the bank of Thu Bon River. There are a dozen restaurants, lively bars, and pubs where you can enjoy fresh seafood, specialties, beers, or any favorite cocktails, etc. In the evening, hundreds of colorful diverse-shaped lanterns illuminate wooden bridges over the river as well as every corner of the street, making it incredible scenes for anyone who has once gone to this ancient town.
Pagoda Bridge ("Cầu Chùa" in Vietnamese)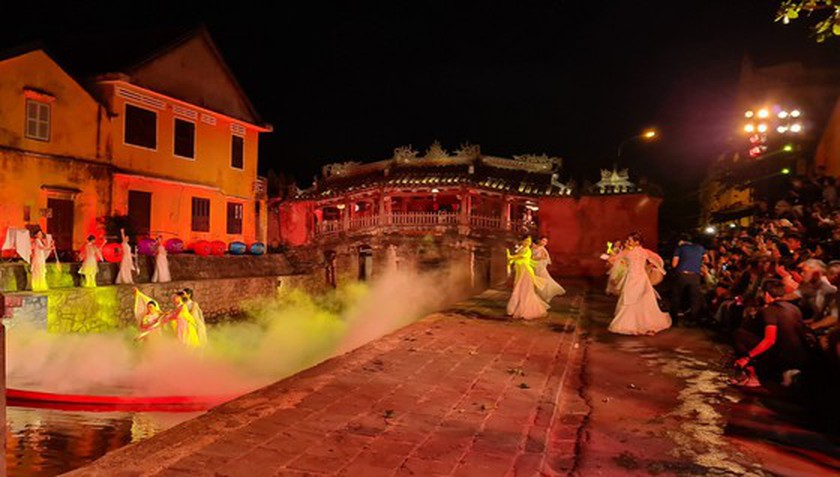 Pagoda Bridge, or Japanese Covered Bridge, back to the 18th century, is one of the most prominent spots in Hoi An ancient town. With a length of 18 meters, Pagoda Bridge is believed to be built by the Japanese residents living in Hoi An as a way to reach the Chinese street. Crossing over the bridge, you'll see a temple dedicated to the Taoist God of weather where local people often pray to help control the weather. Today, it's well-preserved for tourists to visit and considered an iconic symbol of Hoi An.
Fujian Assembly Hall
Built around 1690, Fujian Assembly Hall, is now a symbol of Hoi An architecture and Fujian artists' talent. Built by people from Fujian, China, the hall is a meeting and socializing place for oversea Chinese in Hoi An in former time. It's worth taking your time here, especially in the Chinese festival, to see sophisticated and unique Chinese architecture and many statues, bronze bells, and drums carrying spiritual meanings as well as mythical creatures.
Hoi An Museum of History and Culture
A 10-minute walking from Pagoda Bridge, Museum of History and Culture showcases the vestiges spanning 2000 years of the ancient town with many artifacts of residents, ceramics, and potteries. The museum locates in one of the oldest pagodas of Vietnam: Quan Am Pagoda. It offers an out of ordinary insight into Hoi An's heritage, including traditional committal rites with authentic tombs and exhibitions depicting Hoi An throughout the ages. Take your moment to visit and wallow yourself in a historical space within the ancient town.
Hoi An Museum of Trade Ceramics
Located in Hoi An's old quarter, the museum of trade ceramics is a sophisticated example of traditional Vietnamese artistry. There is a vast selection of Vietnamese, Chinese, and Japanese ceramics found in the architectural digs, mainly back from the 8th to the 18th centuries, and lots of impressive drawings on display showing distinctive architectural styles.
The museum is where you feel the ancient intangibles and hear the whisper of history. Visiting the museum will give you a cultural insight into the town's history and different relationships with other countries. For archaeology and history lovers, it is an ideal place for discovering when traveling to Hoi An.
Cua Dai Beach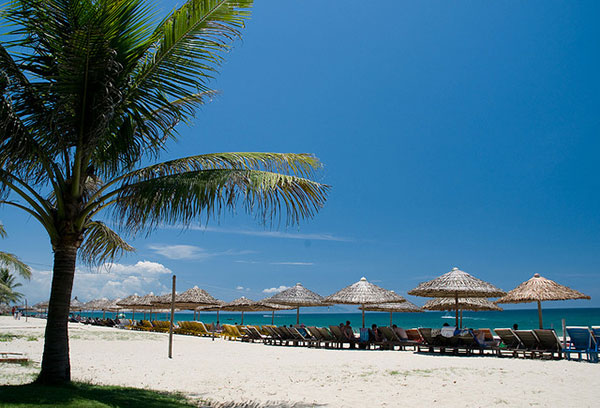 Only a 15-minute drive from Hoi An ancient town, Cua Dai beach, is an incredible getaway for beach-seekers in Hoi An. Three-kilometer stretching of white sandy beach, gentle waves, and pristine water make it a perfect place for swimming, floating around, and snorkeling. It's worth heading to Cua Dai beach to cool off and relax, especially in the summer.
An Bang Beach
An Bang beach, 7 kilometers far from the ancient town in the North, is one of Hoi An's most beautiful beaches. Parts of the beach remains untouched with pristine beauty. An Bang beach is a perfect choice for sunbathing and participating in plenty of seaside activities such as paddle-boarding, swimming, and surfing. For wanderlust people, the little-known place is a secret treasure hiding what you don't want to miss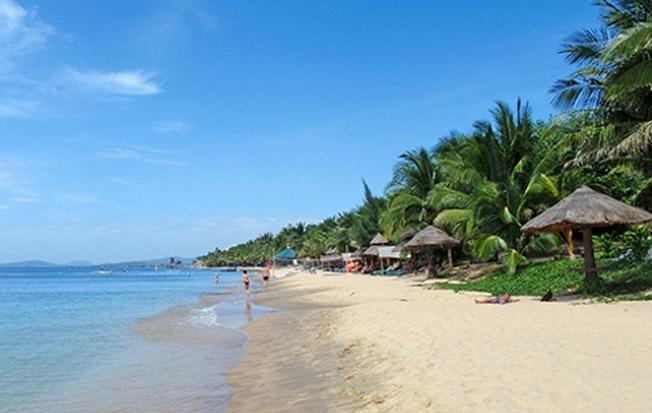 Bay Mau Coconut Mangrove Forest
Situated in a 10-minute drive from Hoi An ancient town, Bay Mau coconut forest is known as a unique ecological area with a waterlogged forest system, but the attraction that you can discover the local culture of people here.
You can ride one of the bamboo coracle boats through the forest and listen to history during the Vietnam war since it used to be a shelter of guerillas. You can also take part in a cooking class that residents will teach you how to cook some specialties like spring-roll, rice pancake, etc. It will become an unforgettable experience for you on your Hoi An holiday.
Handspan offers a Thu Bon river experience, a reward for those who get out of the bed early, witnessing how the day begins in Hoi An as we paddle towards the horizon on the beautiful Thu Bon River.
Hoi An- The kitchen of the world
The local cuisine is something you can not miss when visiting Hoi An ancient town. With diverse finger-licking dishes such as Cao lau, chicken rice, crispy pancake ("Banh xeo"), banh my, etc., Hoi An deserves its brand "The kitchen of the world." Each dish carries its distinctive flavor and unique decoration. Locals use fresh ingredients readily available in their gardens or fresh catch from the nearby rivers and ocean. All these fresh ingredients, together with grandma's recipes that pass through generations, create the local food's incredible and unique tastes.
As being the interfere of different cultures, Hoi An's gastronomy also reflects a harmonious combination of various culinary cultures like Chinese, Japanese, and French. Take your time to experience a variety of delicious dishes in Hoi An. Do not forget to try some favorite drinks like nuoc mot ("Nước Mót" in Vietnamese), which only has in Hoi An.
Accommodations in Hoi An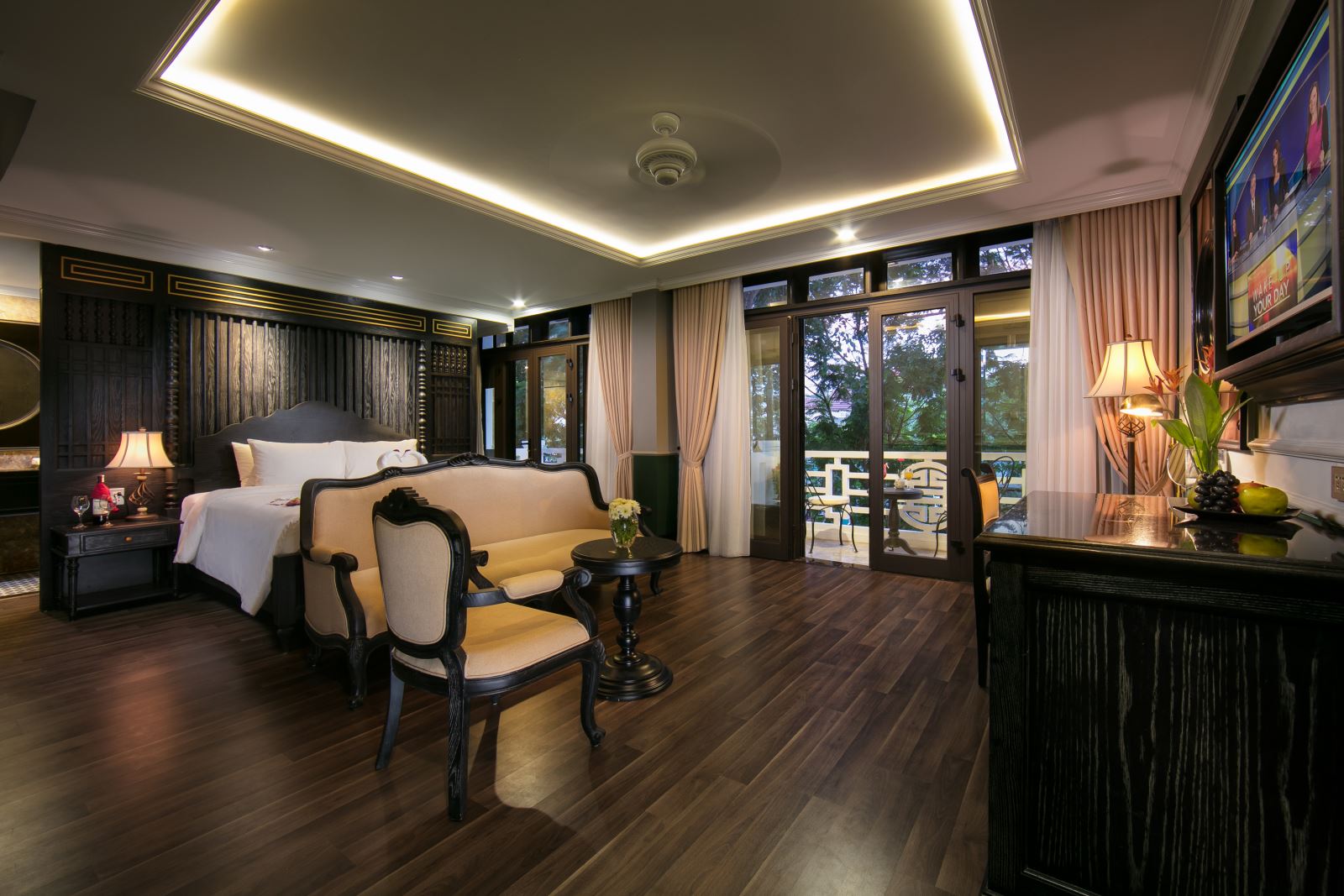 Golden Holiday Hotel & Spa
is ideally
located in the centre, between the beach and the historic town centre.
Itis
a short walk to both
of the attractive
sights. Moreover, it captures the
essence of
Hoi
An, a peaceful
meeting city. It is a place where honeymooners,families and travellers meet, relax and dine amidst the
unique architecture
. Moreover it is between the beach and the historic town centre.
It is
a short walk to both
of the attractive
sights.
The newly 60
Guest Room
and suites
divide
by luxuriously
traditional and modern decoration definitely bring you more
than what
you expected.
The
hotel luckily owns 3 frontages of mainroad so all rooms have natural light, some have a pool view, some with gardenview and some with street view.
Restaurant: Drink and Food are fresh served at our hotel restaurant with its open window overlooking the garden and swimming pool.
Swimming Pool: The large swimming pool and bar offer such majestic views of this unique destination.
Spa: Professional and friendly Team definitely bring you the most comfortable treatment.
Gym: Modern and clean is available 24/24h.
Elevator: Serves all floors.
Fast WIFI is free in each room.